On the big day, just remember the big three: Reframe, Maintain, and Share.
Reframe Public Speaking
See your presentation as a conversation, not a performance
Connect with your audience, talk with, not just at them
Know that everyone feels speech anxiety, others just manage it differently
Know that you can share an outstanding presentation of value with your
audience – you can DO this!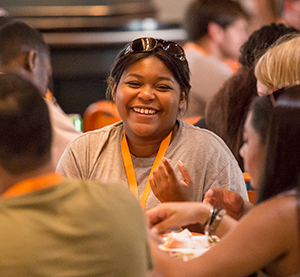 Maintain and Stay Well
Stay hydrated
Eat something before your speech – think light and protein-rich
Move before your speech to relieve that nervous energy – walk a longer route to class, take stairs up to the meeting, walk in the hallway
Visualize success – you can DO this!
Share Your Story – Manage that Energy
Dress comfortably (you look great)
Right before your presentation, jot down two things you will do well on a
notecard – focus on those strengths
Share your story with your audience as a conversation. Build connection with solid eye contact, strong vocal volume and variety, and effective management of speech anxiety
Feel free to write reminders on your outline, PowerPoint outline or notecards – such as "slow down," "smile," "relax," "you are doing great," "halfway there," "look at audience," and "breathe."
Enjoy the opportunity (not everyone has the chance to be heard)
Remember: you can DO this!